Avery's 3!! (Well, almost.)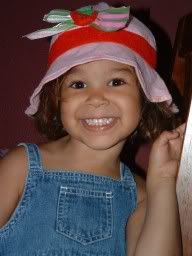 Tomorrow Avery turns 3!! How can that be? This little one that caused me soo many sleepless nights, lots of hip pain, the opportunity to know what it is like to have a baby in NICU (does anyone ever think that it will happen to them anyway?), that not all children are laid back, mellow and independent like her brother. But she's brought us so much excitement and joy. We can't imagine life without her.
I've noticed in the past couple of weeks that she's definitely not my baby anymore. Just the way that she speaks sounds so much older. Her success at potty training (for the most part) lately, doesn't help. It's so weird thinking that I don't have to buy diapers anymore. I've been buying them for the past 6 years.
We'll be having the big celebration next week when the grandparents and Uncle arrive. We'll celebrate both kiddos together.