Kitchen pictures!! 95% done!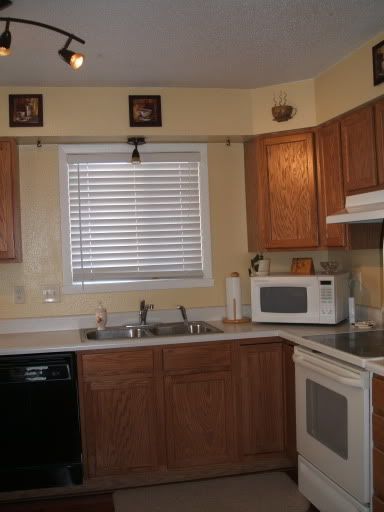 I tell ya, I'm never painting cabinets again!! (I've said that I wasn't going to paint anymore in the past and we see how that turned out.) I love the outcome but it was a huge project and it wasn't the best timing with being in school full time and the kids were sick this past week....
We just have the touch up stuff left. There were a couple of places that the finish just wasn't neat enough so you'll see those sanded spots and the missing drawer front. We also have to caulk around that backsplash.
Things that I'd do differently would be choosing a satin protective finish vs. a gloss. When the lights are shining on the cabinets, you really see it. And the backsplash ended up being an inch shorter than our previous one so we had to spackle, retexture, and paint that before putting the countertops in. That added 1/2 a day of work.
Above is the before: (yes, I'd like to have all matching appliances one day. :) )